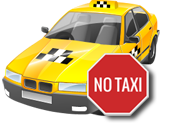 We kindly request your attention!
Our discounts are available for those guests who don't arrive by public taxi to the club. Guests who arrive by public taxi should pay an entry fee and can't have any discount.
Unfortunately, in Budapest taxi drivers usually ask clubs for money so that they will not talk the guests out of their destination. We call this head money, they call it a commission. The point is that when you take a taxi to come to P1, we have to pay the taxi driver. As a result, we have to make you pay an entrance fee and you cannot enjoy the enormous discounts advertised on our website either. We kindly request you not to call a taxi but use our absolutely free chauffeur service, or visit us on foot. We appreciate your understanding and cooperation!
Please call our Free Car Service or visit us on foot!
Free one way Car Service: + 36 20 222-4422
learn more

The centre of Budapest, 1 minute from the Basilica, and in the immediate vicinity of the most well-known hotels (Le Meridien, Kempinsky, Four Seasons). The number one club of the capital provides substantial entertainment of high quality for you - at favourable and fair prices.
P1 night club is the newest and most prominent club of Budapest nightlife when it comes to erotic entertainment.
Besides lots of beautiful hostesses, P1 night club also offers discreet entertainment of high quality, and what's also very important, reasonable prices and a client-centred service. It's safe to say that there is no other night club currently in Budapest nightlife quite like ours.
We made no compromises creating the most beautiful interiors and club atmosphere together with a well-trained staff to bring you the downtown night club that offers you 100% safety, totally reasonable prices and an unforgettable erotic experience. As part of our bonus system, unique in Budapest nightlife, we transport our guests to the club free of charge, all you have to do is dial ... to call our free car service.
In addition, our 25 euro coupon is also available to everyone who simply prints the coupon and brings it to us. And finally, please take a look at the most beautiful girls working in Budapest nightlife, as all girls featured in the gallery are employed by P1 Club, a photo guarantee is provided for the ladies featured on the website. Our website does not feature all of the girls employed by the club, besides the ones presented here there are at least 20 other ladies working in our night club.