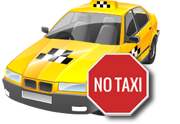 We kindly request your attention!
Our discounts are available for those guests who don't arrive by public taxi to the club. Guests who arrive by public taxi should pay an entry fee and can't have any discount.
Unfortunately, in Budapest taxi drivers usually ask clubs for money so that they will not talk the guests out of their destination. We call this head money, they call it a commission. The point is that when you take a taxi to come to P1, we have to pay the taxi driver. As a result, we have to make you pay an entrance fee and you cannot enjoy the enormous discounts advertised on our website either. We kindly request you not to call a taxi but use our absolutely free chauffeur service, or visit us on foot. We appreciate your understanding and cooperation!
Please call our Free Car Service or visit us on foot!
Free one way Car Service: + 36 20 222-4422
learn more